superheroes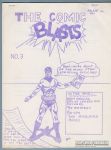 Contents include an article on Charlton Comics, brief article on Adam Strange, a six-page Mysterian ama-hero strip, and letters (Gary Friedrich, etc.).
Characters include: Crystal (Inhumans), Peter Parker, Peacemaker, Captain Atom, Thunderbolt, Judomaster, Thor
Ditto, top-stapled, 20 one-sided pages.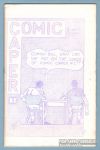 Contents include: ama-hero fiction with illustrations (Five Horsemen of Death, Green Sceptre), superhero origins; more.
Characters in fan art include: Green Lantern, Flash (Golden/Silver), Eclipso, Atom, Batman, Hawkman, Aquaman, Will Magnus
Ditto, saddle-stitched.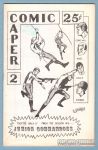 Contents include: article on Lex Luthor; 10-page Junior Commandoes WWII comic by Arbunich and DuBay; letters (Flo Steinberg, Larry Herndon, "D.C. Publications"); more.
Offset/ditto, saddle-stitched.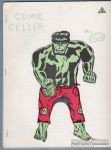 Contents include: article on the Hulk; ama-hero comics; a story index for the first 35 issues of The Avengers (then current); index of Hulk stories; a Dr. Strange parody comic; more.
Characters in art include: Hulk, Green Hornet
Offset, side-stapled.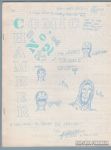 Contents include: editorial on high prices in fandom; "The Return of Iron Jaw" article; ama-hero fiction (the Golden Blade); indexes for Showcase and the Atomic Knights; paperback reviews; more.

Characters in art include: T.H.U.N.D.E.R. Agents, Iron Jaw, Crimebuster, Captain America
Ditto, side-stapled.
Numbered edition of 60.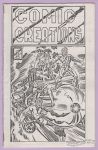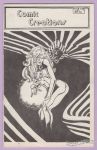 Cover says #5, indicia says #3 but I believe it's probably 5.
Cardstock cover.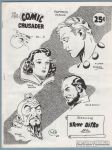 Contents include: "Steve Ditko, Man of Mystery" article; "The Day Flash Gordon Died" article; Q&A with Bob Cosgrove; "The First Inhumans" article (funny animal characters); "The First Injustice Society" article; a two-page Defender strip by Greim; letters (Mike Friedrich, Robert Gluckson, Doug Fratz, others); more.
Characters in fan art include: Flash Gordon, Ming the Merciless, Dr. Zarkov, Dale Arden, Spider-Man, Dr. Strange, Blue Beetle, Question, Captain Atom, Creeper, Hawk and Dove, Mr. A, Spectre, Deadman, Mr. Justice, Mysterious Traveler, Super Rabbit, Li'l Pan, Sir Spot, Mighty Mouse, Hawkman, Hawkgirl, Flash, Quicksilver, Defender, Hulk, Barbarella, Black Condor
Offset/ditto, 16 pages plus mailing wrapper, side-stapled.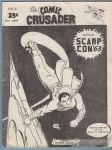 Contents include: Stan Lee's speech at the 1968 SCARP comic con (Comic Art Convention) with photo; con report (with photos of Wally Wood, Gil Kane, Will Eisner, Tom Fagan, Al Williamson, Leonard Starr, Lee Falk); Cosgrove's version of "The Conventioneers"; "The First Inhumans" (part 3 of in a series about funny animal comics); Q&A with Rich Buckler; a visual rundown of Hawkman's headgear over the years; "Mongo's Forest Kingdom" (Flash Gordon); "The Second Time Around" (Marvel's Golden Age hero revivals); a bit on The Wizard of Id; a bit on Golden Age hero Shock Gibson; Iron Man/Barbarella/Captain Marvel Jr. cosplay (costume contest); letters from Jim Steranko, Steve Ditko and others; two-page Defender ama-hero strip by Greim; more.
Characters in fan art include: Captain Marvel (Marvel/DC), Deadman, Mister Spock, Triton, Mighty Atom, Firefly, Bee-29, Atomic Mouse, Atomic Rabbit, Atomic Fox, Super Goof, Super Turtle, Sir Rodney, Captain Marvel Jr., Black Knight, Dr. Strange, Vision, Superkatt, Sub-Mariner, Human Torch
Offset/ditto, ditto pages are one-sided, side-stapled.
Two printings?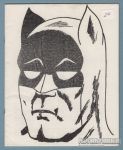 Although this is issue #2 it's actually the first issue published. The stencils for #1 were ready to print but delayed for reasons not stated.

Contents include: American comic and strip news, fanzine reviews, a centerspread drawing of Marvelman (Miracleman), article/index on The World Adventure Library; reminiscences of Electroman, more.

Written by Dave McCulloch. All artwork is uncredited, presumably it's also by McCulloch.

Characters in fan art include: Batman, Captain Marvel, Marvelman
Mimeo, saddle-stitched.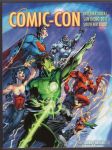 Contents include pieces on the history of comics fandom (with many fanzine profiles and scans), Lee & Kirby, anniversary tributes (Fantastic Four, Antonio Prohias' Spy vs Spy, comics in 1986, Watchmen, Dark Horse Comics, SLG, Bone), more.

Appearances in art by Fantastic Four, Justice League of America, Stan Lee, Jack Kirby, Galactus, the Watcher, Avengers, Inhumans, Black Panther, Sub-Mariner, Silver Surfer, Dr. Doom, Mole Man, Annihilus, Skrulls, Hulk, Spy vs Spy, Batman, Rorshach, Dr. Manhattan, the Comedian, Maus, the Joker, Boba Fett, Hellboy, Ghost, Predator, Concrete, Usagi Yojimbo, Groo, Conan, Willow, Alien, R2-D2, C-3PO, Stormtrooper, Milk & Cheese, Dr. Radium, Bone and more.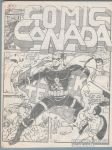 Contents include: article on Mr. Terrific; ama-hero comics (Freedom Fighter, Green Ghost); commentary on Jules Feiffer's The Great Comic Book Heroes; "In Defence of the Code" article; "Racial Prejudice in Comics" article; more.
Characters in art include: Black Terror, Mandarin, Kato, Yellow Claw, Chop-Chop, Mr. Terrific
Xerox or mimeo?, corner-stapled.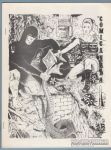 Contents include: article on Flash Gordon; ama-hero comic strips (Freedom Fighter, Astro); article on Star Studded Comics (Canada); a Conan comics adaptation ("The Usurper"); more.
Offset, side-stapled.
What Is This Site?
A virtual archive of mini-comics, fanzines, small press comics, newave comix and related items. The physical archive, housed at PF headquarters, is being built with personal acquisitions as well as generous donations from supporters. This project is most definitely a work in progress.