Ronn Foss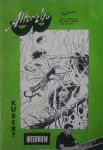 Dimensions are 10 x 7. Alter Ego #1 thru #4 was published by Jerry G. Bails. Issues #5 & #6 was Ronn Foss. Biljo White edited #7.
Interview with Joe Kubert.
Front cover is a photostat copy of Tor #3 by Joe Kubert. Back cover by Mike Vosburg.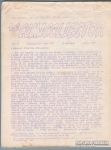 Contents include: a seven-page American Man ama-hero strip; sale/want lists (Howard Rogofsky, Mike Vosburg, Jerry Bails, others); a look at some obscure Golden Age characters; warnings about unscrupulous fans; letters; more.
Characters in art include: Shock Gibson, Captain Freedom, Black Cat, Pat Parker
Ditto, corner-stapled.
There was a third person in TRIAD (another Foss but I'm not sure about the first name).