Ronn Foss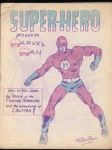 Wiinter 1962-63.
Edited by Mike Tuohey and Bud Mueller.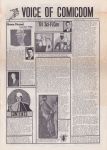 Formerly Fantasy Heroes' Hangout.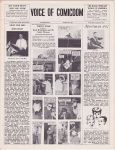 "Meet the Pro" with John Belfi, and articles about Alex Kotsky's Apartment 3G, The Bond Era by Rudi Franke, and an Australian character named "The Panther" by John Ryan.   Letters from Richard Kyle, Dick Ayers, Steve Perrin, Sid Greene, Murray Boltinoff, Will Eisner.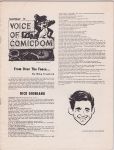 Major format change from unstapled newsletter to saddle-stitched zine with more pages and heavier paper.  Interview with Dick Giordano by Mike Friedrich, article about King Features Syndicate by Rudi Franke, Parts 6, 7 and 8 of Richard Corben's first published strip, "Monsters Rule," graphic critique of Will Eisner, and another strip by Corben called "The Lure of the Tower."