Bob Laughlin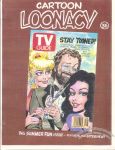 This issue contains a 15-page story by Brian Buniak that stars Bettie Page and his characters Apricot O'Toon & Babette Quark. It's kind of a talk-show format and features guest panels drawn by Kurt Schaffenberger, Bob Laughlin, Gary Fields, Howard Simpson, George Erling, Howard Bender and Mark Campos.

Other standouts include: TV Guide parody cover by Buniak and three pages of Gene Deitch illustrations from The Record Changer.

Characters appearing in art and comics include: Wolverine, Cap'n Crunch, Stan Lee, Howard the Duck, Joe Camel, Fred Hembeck, Bazooka Joe, Moebius' Arzach, Rocky Squirrel, Cathy, Flattop, Astro Boy, Kermit the Frog, Goofy, Superman, Kitz 'n' Katz, Krazy Kat, Mr. Natural, Joe Matt, Barney the Dinosaur, Beany & Cecil, the Cat in the Hat, Wile E. Coyote, Joe Tater, Bill Clinton, Jessica Rabbit, Dagwood Bumstead, Captain Haddock and Ren & Stimpy.
Fewer than 50 copies usually printed (probably more like 25).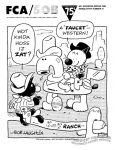 Kitz n' Katz appear on the cover.
[Note: At least one image in this entry was found online (probably at an auction site) and saved for personal use. And then the Database project came along! If you recognize your image we'd like to have your permission and would love to give you credit for your work. Please contact us through Site Info > About in the main menu up top.]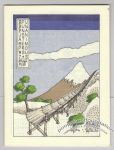 This issue's theme is "Punsters Unanimous".

700 copies of this issue were printed, 500 of which were numbered (the other 200 were contributors' copies).