DD Ensign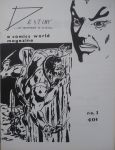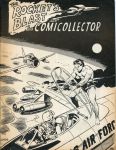 Editorial features include:
Cover by Wally Wood.
"THE ODDITY PAGE" by Raymond Miller.  A short article about Tarzan artists Burne Hogarth, Russ Manning, and Albert Giolitti by D.D. Ensign.  A newspaper article titled "Batman, Superman, and All That Comic Crowd Coming of Age."   "BLASTS FROM THE READERS" with letters from Steve Parker, Gordon Flagg Jr., Alan Jadro, and Lars Erickson.
[D.D. Ensign = Don Ensign? --Rb]
Ads for: 
ADVENTURE HEROES' HIDE-A-WAY #13
ALTER EGO # 7 and 8
APEX #2
BLOOD AND THUNDER #7
BOMBSHELL #9-11
BULLETIN #3
CIRCLE OF VALOR #1
COMIC CANADA #1
COMIC FAN'S GUIDE TO PERIODICAL LITERATURE
COMIC LORE #2
COMIC-MART
COMIC NEWS #4 
CONCUSSION #3, 4
FANDOM ANNUAL #1
FANDOM SHOWCASE
FANFARE #1 
FANTASTIC FAN FICTION
FANTASY ILLUSTRATED #8
FIGHTING HERO COMICS Special Edition #1
FLASH COMICS SPECIAL
GRAPHIC ART COLLECTOR #8
GRAPHIC SHOWCASE #1
GUTS #2
IRVING FORBUSH GAZETTE #1-4
MAD WORLD OF MARVELDOM #1
MARVEL MANIA #5
MASQUERADER #6
MYTHOS #1
O&O #4
PANEL ART EXAMINER #5
QUANTUM #1, 2, 3
ROCKET'S BLAST SPECIAL #1 and 7
STAR-STUDDED COMICS #6
THE EYE #1
WITZEND
WIZIT #1 (Marshall Lanz)