Eric Vincent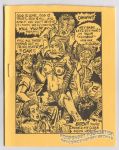 On the inside front cover is a photo of a woman wearing a Babyfat t-shirt. If you view the inside front cover by holding the mini up to the light you can now see through this woman's t-shirt thanks to Eric Vincent's cover drawing. Such a funny surprise.
#179 in Jay Kennedy's Official Underground and Newave Comix Price Guide.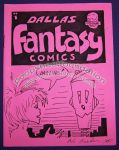 Souvenir comic of the Dallas Fantasy Fair, produced and publishing during the show.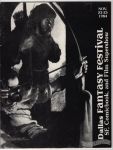 Scheduled guests included Robert Crumb, Gary Groth, Jaime Hernandez, Gilbert Hernandez, Jack Jackson, Denis Kitchen, Harvey Kurtzman, Spain, Gilbert Shelton, Don Ivan Punchatz, Dave Sim, Pat Broderick, Bob Burden, Brad W. Foster, Dick Giordiano, Jan Strnad, Doug Moench, Real Musgrave, Jim Shooter, Kevin Nowlan, Doug Potter, Jerry Ordway, Doug Smith, Kenneth Smith, Eric Vincent, Matt Wagner, Howard Waldrop, Marv Wolfman, John Wooley, cat yronwode and others.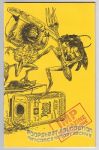 [Note: At least one image in this entry was found online (probably at an auction site) and saved for personal use. And then the Database project came along! If you recognize your image we'd like to have your permission and would love to give you credit for your work. Please contact us through Site Info > About in the main menu up top.]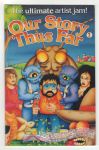 Phenomenal jam comix project organized by Brad W. Foster. Each artist contributed one page which built upon and furthered the pages completed before them.
Appearances by Gregor Samsa, Franz Kafka and cockroach-y versions of Moe Howard and Laurel & Hardy.
Full-color covers on coated stock.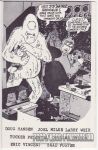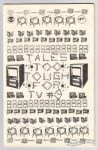 Some (all?) copies came with a mini-sized insert containing promotional ads by the contributors (TTTFTV Ad Supplement #1, 16-pages).
Card stock cover.