Gordon Carleton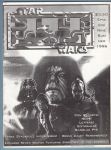 Star Wars-focused fanzine. Contents include: "Five Minutes with Chris Sprouse", SW-themed gag cartoons, and a look at the "Doomworld" story arc in SW comics.
Characters appearing in fan art: Darth Vader, Lando Calrissian/Billy Dee Williams, Miss Piggy, Gamorrean guard, Jabba the Hutt, Muppets, Chewbacca, Ewoks
There may be more contributors than listed above.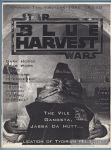 Long-running fanzine focused on Star Wars and related things. Contents include an interview with Cam Kennedy, Olivier Vatine and Fred Blanchard from Dark Horse's SW comics.
Characters appearing in fan art: Stormtroopers, Princess Leia, Han Solo, Chewbacca, Darth Vader, Luke Skywalker, Tusken Raider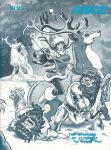 Editorial features include:
Wrap-around cover by Wendy Pini.
"FILMS FANTASTIQUE" ("Young Frankenstein") by James Van Hise. 
"The Complete 'Avengers' TV Index" by Don Rosa. 
"CRITIQUE" fanzine and comix reviews by Mark Burbey, and JVH. 
"The Spinning of ELFQUEST, or Welcome Back Cutter" by Wendy Pini. 
Elfquest centerspread by Wendy Pini. 
"Don Rosa's COVER GALLERY — The Great DC Gorilla Fetish."    
"COMICOPIA" by RC Harvey.  
"BLASTS FROM THE READERS" with a letter from Bill Warren. 
Ads for:
COLLECTORS PRESS Portfolios
CONUN THE HANNAH-BARBARIAN PORTFOLIO by Eddie Eddings
ELFQUEST #2
ENTERPRISE INCIDENTS #6
FANDOM DIRECTORY
Rex Miller's RADIO PREMIUMS ILLUSTRATED Vol. Two
SCHANES & SCHANES Art Portfolios
SPACING DUTCHMAN by Eric Vinicoff and Marcia Martin
STELLAR GAS #1
THE BUYER'S GUIDE FOR COMIC FANDOM
THE COMIC WORLD (Robert Jennings)
THE COMPLETE EC LIBRARY (Russ Cochran)
THE DIVERSIFIER 
WITZEND #11