Jay Fosgitt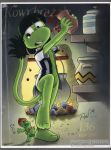 Long-running furry APA dedicated to funny animals, anthropomorphics and the like.
Editor: Edd Vick
Side-stapled, some interior color.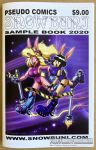 Collection of Snowbuni excerpts from other published comics.
Saddle-stitched, some interior color.
At least one previous edition (if not all) were simply titled Snowbuni on the cover (listed here in the Database as "Snowbuni [sampler]").