Joe Orlando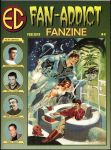 Articles about Frazetta's comic strip work, EC art exhibit, Wally Wood diorama, Wood's last work for MAD, work by Wood when he was in the military, Jerry Weist and Squa Tront, and more.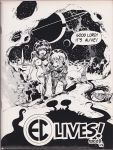 Edited by Ron Barlow.  Design and layout by Barlow, and Leslie Cabarga.  Features profiles of EC staff, article titled "EC on Film" by Bhob Stewart, and black-&-white reprints of classic EC stories by Joe Orlando, Graham Ingels, Al Williamson, Wally Wood, Reed Crandall, Frank Frazetta, and George Evans.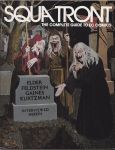 EC fanzine.  Edited and published by John Benson.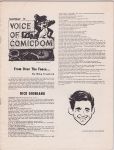 Major format change from unstapled newsletter to saddle-stitched zine with more pages and heavier paper.  Interview with Dick Giordano by Mike Friedrich, article about King Features Syndicate by Rudi Franke, Parts 6, 7 and 8 of Richard Corben's first published strip, "Monsters Rule," graphic critique of Will Eisner, and another strip by Corben called "The Lure of the Tower."