Keith Fukumitsu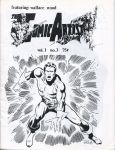 Wally Wood issue, featuring articles about Wood's career, and a Wally Wood checklist. 
Letters from Joe Kubert, Bob Cosgrove, and Duffy Vohland.
Characters in art include: Dynamo, Captain Science, Animen, Animan, Nudine, Daredevil, Radian, Captain Action, Captain America
Offset, saddle-stitched.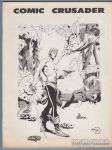 This issue is all Flash Gordon. Contents include: indepth "Flash Gordon Films" article by Royer; articles on serials "Trip to Mars" and "Flash Gordon Conquers the Universe"; roundtable discussion between Royer, Sinnott, Greim and Tony Isabella; a four-page Flash Gordon comic by Greim and Black.
Characters in fan art include: Flash Gordon, Ming the Merciless, Azura
Offset, saddle-stitched.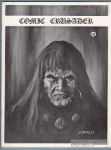 Special "Barbaric Issue". Contents include: interview with Frank Thorne; Conan fiction by Isabella; article on Edgar Rice Burroughs' Tarzan; profile of artist Carlos Gimenez (Dani Futuro); 10-page Eclipse ama-hero strip by Foss; more.
Characters in fan art include: Conan the Barbarian, Tomahawk, Dani Futuro, Thor, Slam Bradley, Tarzan
Offset, saddle-stitched.
There are two other artists I couldn't identify.