Leslie Sternbergh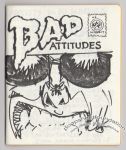 One of Roger May's souvenir minis from the San Diego Con.
3½ × 4¼"
Interiors on white and goldenrod

Contents include a cover by Steve Lafler and a page of San Diego Con '83 jam art by Leslie Sternbergh, Dan O'Neill, Larry Rippee, R.L. Crabb, Par Holman, J.R. Williams, Brad Foster, Jim Valentino, David Miller, Dave Patterson, Steve Lafler, Carl Kirkendall, Jane J. Oliver, Cabby, Sheridan Williams, Lynn Hansen and Theresa Thurmond.