Nicola Cuti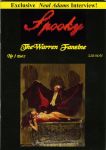 Contents:
40th Anniversary of Creepy
Voices from Beyond
The Neal Adams Interview
Spooky looks at The Goblin
The Great Frankenstein Fraud ?
Spooky interviews T.Casey Brennan
The Great 'Cover' Fraud ?
Cuti's Corner
Dracula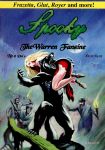 Contents:
Frank Frazetta/Trina Robbins Say ...
Mike Royer Interview
Don Glut Interview
Nicola Cuti Interview
Harry Roland Cover
The Mummy UnWrapped
Cuti's Corner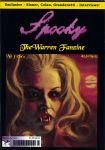 Contents:
Will Eisner Interview
Jerry Grandenetti Interview 
Gene Colan Interview
Cuti's Corner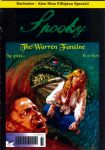 Contents:
Alex Nino Interview
Romeo Tanghal Interview 
New Bill DuBay Story
Cuti's Corner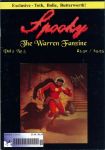 Contents:
Alex Toth Interview
Frank Bolle Interview
Jack Butterworth Interview 
Cuti Back Cover 
Warren Office Visit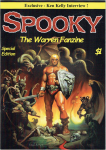 This final issue of Spooky features an interview with Warren cover artist Ken Kelly. Richard Corben and Nick Cuti each contribute a short anecdote of their Warren years.