Shawn Cheng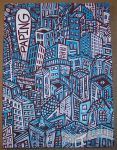 This oversized book collects all of John Mejias' comics about teaching art in public schools in the Bronx and Long Island. Good stuff. There's also a comic by Shawn Cheng (Partyka) about adjusting to American life as a kid and making friends by drawing pictures of the Teenage Mutant Ninja Turtles.

Hand-silkscreened cover, interiors printed in blue ink. The inside back cover includes a library card and pocket.

9 x 12".

Numbered edition of 1000.