Timo Kokkila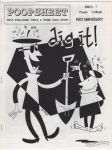 News and reviews of small press comics, zines and such, plus columns by Wayno ("Other Sounds") and Bruce Sweeney ("Underground Station"), and art by Gary Fields and Timo Kokkila.
Side-stapled, b&w interiors.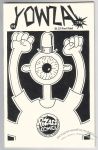 The Three Stooges, Captain Kangaroo, Sesame Street and the Playmates are some of the subjects in this issue.
Pizazz Comics memberzine.
There may be more contributors than listed above.