Joe Chiappetta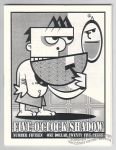 There may be more contributors than listed above.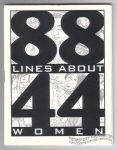 Comics adaptation of the Nails song with each woman illustrated by a different artist.
There may be more contributors than listed above.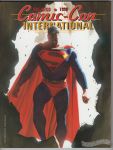 Tributes in art and writing to the Legion of Super-Heroes, Superman, Elfquest, comics for boys and girls, and Archie Goodwin.
Appearances by other characters include Bizarro Superman, Cutey Bunny, George Reeves, Christopher Reeve, Dean Cain, Justice League of America, Ralph Kramden, Jerry Siegel, Joe Shuster, Robert Redford, Sonambulo, Supergirl, Wonder Wart-Hog, Underdog, Super Goof, Mighty Mouse, Super Chicken, Darkseid, Akiko, Chronos, Mavis, Venus, Big Boy, Katy Keene, Patsy Walker, Millie the Model, Usagi Yojimbo, The Little Monsters, Melvin Monster, Spooky and Sailor Moon.
Editor: Dan Vado, Art Director: Scott Saavedra.
Roughly 8¼ x 11" (8½ x 11" trimmed)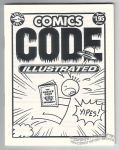 Each section of the Comics Code Authority's guidelines is illustrated by a different artist.
Characters appearing include Groo the Wanderer, Patty Cake, Akiko, Superman, Prometheus (Amoeba Adventures)
Hand-stamped logo on back.
Generally speaking, Not Available printings beyond the 1st have a datestamp on the front or back cover which is the printing date of the batch that copy was from. Matt Feazell says those post-1st printings were usually 60 copies or fewer.
Known printings:
May 2, 1997
November 16, 1997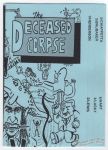 Unusual format for this jam comic spoof of Narrative Corpse. It unfolds once vertically and then each page is 5-6" wide by 17" tall.

Published in 1995 or '96.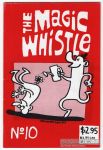 Letters from Lloyd Dangle, Jennifer Daydreamer, S.A. King, John Porcellino and others.
Two-color covers.
One more artist: [Mark?] Sunshine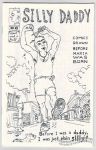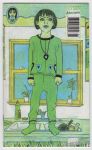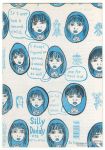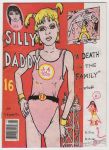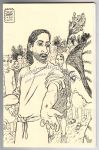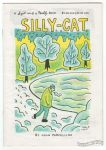 Flipbook (Silly Daddy/King-Cat).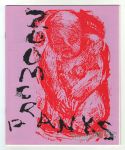 Jeff Zenick documents a visit to Berkeley (including several drawings of Telegraph Avenue sights). Blair Wilson draws a comic starring barnyard animals, of all things. Gary Usher adapts "Do You Know the Difference Between Big Wood and Brush" by Gary Roberts and the Satellites.
Edited by Mark Cunningham and Jenny Zervakis.
7 × 8½"
36 pages
2-color cover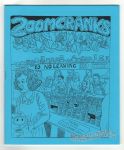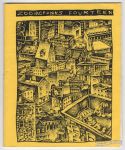 Published in late '90s (1997 or so)?