Jim Siergey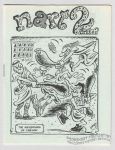 Illustrated puns.
4¼ × 5½"
8 pages on textured stock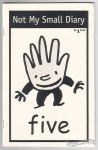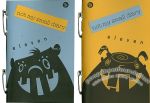 One issue in two volumes.
The theme revolves around life at 11 years or old or younger.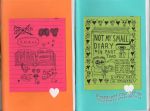 Autobiographical comics anthology. This is one issue in two volumes, each bound with various types of ribbon. The theme is "dating".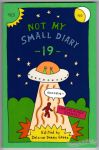 Autobiographical comics on the theme of Unexplained Events.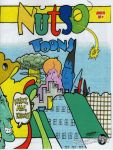 Content includes some Everyman Studios reprints along with new material. This issue debuted at DINK in Denver, Colorado.
8½ x 11"
36 pages
Full-color wraparound cover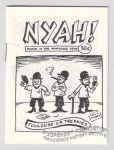 Puns and more puns with references to Star Trek, Toulouse-Lautrec, Abbot & Costello and Oliver Hardy.
2¾ x 3½"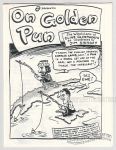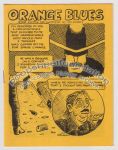 Available in two variations: orange covers with blue interiors and blue covers with orange interiors.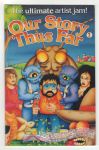 Phenomenal jam comix project organized by Brad W. Foster. Each artist contributed one page which built upon and furthered the pages completed before them.
Appearances by Gregor Samsa, Franz Kafka and cockroach-y versions of Moe Howard and Laurel & Hardy.
Full-color covers on coated stock.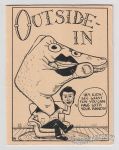 Outside In was a long-running series that collected artist self-portraits. Originally begun by Steve Willis, this issue is from the Starhead Comix run.
Cardstock covers.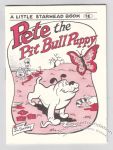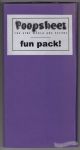 Promo giveaway for the Poopsheet infozine. Four-page sampler plus inserted bookmarks, stickers and postcards made for this release plus promo items from other publishers. The contents varied slightly from copy to copy.

Mini comic, 8 pages, 4.25 x 5.5 inches. Pink 20lb bond stock, single staple on spine.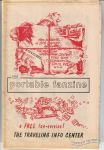 This is essentially a 1975-76 guide to current fan publications (comic zines, underground comix and various fanzine categories) put together by Fred Burkhardt / 20th Century Anonymous (Meateaters).

Apart from many pages of fan publication listings there's also an article by Clay Geerdes ("Freelancing: An Essay"), a cover and huge two-color centerspread by Jim Siergey and other comix and art.
Roughly 7½ × 11¼" which unfolds to 11¼ × 15".
Covers and centerspread printed in two colors.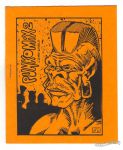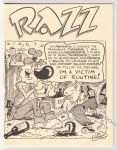 Collection of four-panel strips starring that lovable hobo, Razz.